Off the beaten path of Abbot Kinney, creatives and curators commune at a tiny design enclave just North of Venice Blvd. You likely won't find it if you're looking for a storefront – it's more of a mysterious alleyway. It's hidden. And most people who know of it, refer to it simply as the rabbit hole. Follow the narrow entry tucked behind The Stronghold, and dancing jellyfish murals will guide you toward the sweet scent of Buttery Brew and six insanely creative spaces dedicated to satiate the curiosities of all who venture down this path less traveled.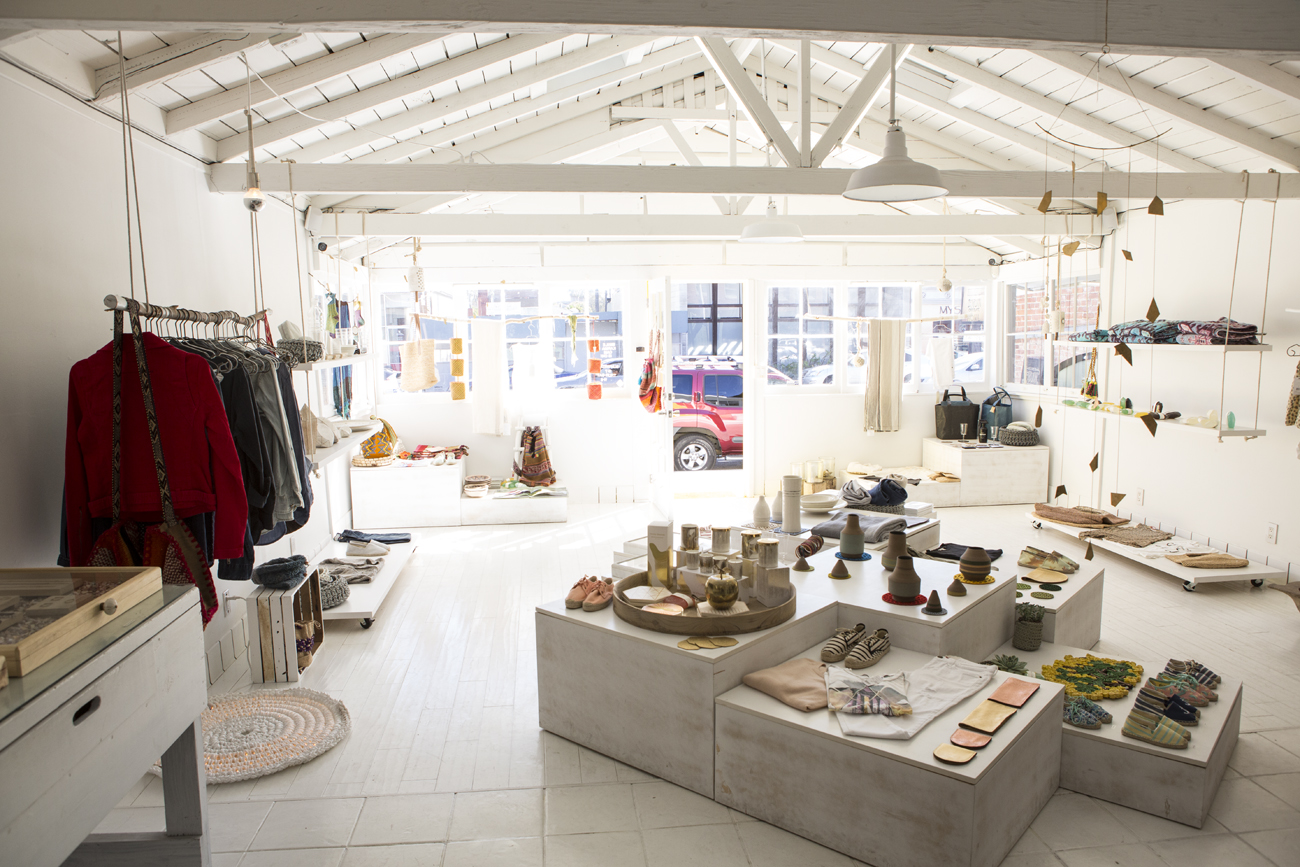 The Piece Collective & H.O.W.L
Abbot Kinney's most interesting alleyway is flanked by two eclectic shops, both bright, airy, and popping with color: The Piece Collective at the helm, and H.O.W.L in the very back.
The Piece Collective beckons passersby with a welcoming porch and bright yellow triangle. Partners in retail and in life, Marina Azria and Leran Hadar travel the world searching for creative and independently-made housewares, accessories, apparel, and "anything that is both innovative and aesthetically stimulating." The store is spacious, set up almost like a museum so customers can experience each piece. Denim from Kapital and handmade Colombian backpacks from Miss Mochila hang from the crafty yarn displays Azria makes herself. Some items don't need a display and can be enjoyed on their own like the light-up carpet that plugs in and warms your feet as you step out of bed.
Stay for a while and lounge on the porch as you people watch on Abbot Kinney, but don't leave until you make it back to H.O.W.L where Tini Courtney has set up a space full of positivity. Handle Only With Love is her philosophy, and she makes all of her jewelry with that in mind. Her pieces are inspired by her dreams, and she built quite the dreamcatcher collection to prove it. She is a multimedia artist, which you can see in her jewelry as she weaves brilliant wearable pieces with crystals, minerals, leathers, metals and found objects. Courtney also grabs inspiration from mythologies and individual stories. She's created a tiny space for lounging, so go back, hang out, try on some dreamcatchers, and share your story.
Another Kind Of Sunrise
Lela Buttery, a food-biologist-turned-personal-chef runs the first coffee bar in town to serve up butter coffee, better known as her Buttery Brew, which is all the rage in CrossFit and paleo circles. It's a power-packed cup of premium Handlebar coffee Vitamixed together with organic, grass-fed butter, and coconut oil, and it's believed to be a healthy alternative to milks and sweeteners, keeping you fueled longer without the afternoon crash.
Depending on where you enter the AK alleyway, you may see Buttery first. Hang out for some whole grains served with healthy milk options as well as acai bowls, paleo granola, porridge, and cold-pressed juices. Check out the full story here.
ZenBunni Chocolates
Zen and Bunni Wyldeflower needed a place of wonder to inspire their three-year-old daughter when she came to work with them. So they built it! Using clay from their own Topanga home, they created a human-sized rabbit hole, just like the one Alice fell down years ago. Its ceilings are rounded and lined with turtle shells, and they made it look as if a tree grew straight from the ground up to the mysterious heavens. In the middle sits their treasure: chocolate.
The pair used to sell chocolates on Main Street but took time off to be parents. After two years, they were still receiving email requests for their delicious cacao secrets. To the AK alley they came to convert an old bathroom and closet into a true rabbit hole for chocolate enthusiasts. Their design is so influential that locals often refer to the entire alley as "The Rabbit Hole." More importantly, there's chocolate.
"Zen is a full wizard in the kitchen," Bunni says of her husband, who grinds the unroasted Ecuadorean cacao for hours and whips up flavors like Maple & Espresso Beans, Lavender Sea Salt, or Kathmandu Chai. The pair has found inspiration for flavors and ingredients through travel. The Chai, for example, is inspired by a real trip to Kathmandu. Bunni remembers saying, as they were sipping tea in Nepal, that they would never make a Chai flavored chocolate unless it tasted just like the one they were sipping. Their flavor array is astonishing (they've been on many trips), and you can get a rainbow pack to try them all. It comes with a crystal. They crystal charge all their chocolate. And they take pride in selecting biodynamic local ingredients so that the cute little square that makes it to your mouth has no additives, dairy or sugars— just chocolate. Really Good Chocolate. Chocolate that had people emailing Zen and Bunni to get them to open a store. We're so happy they listened.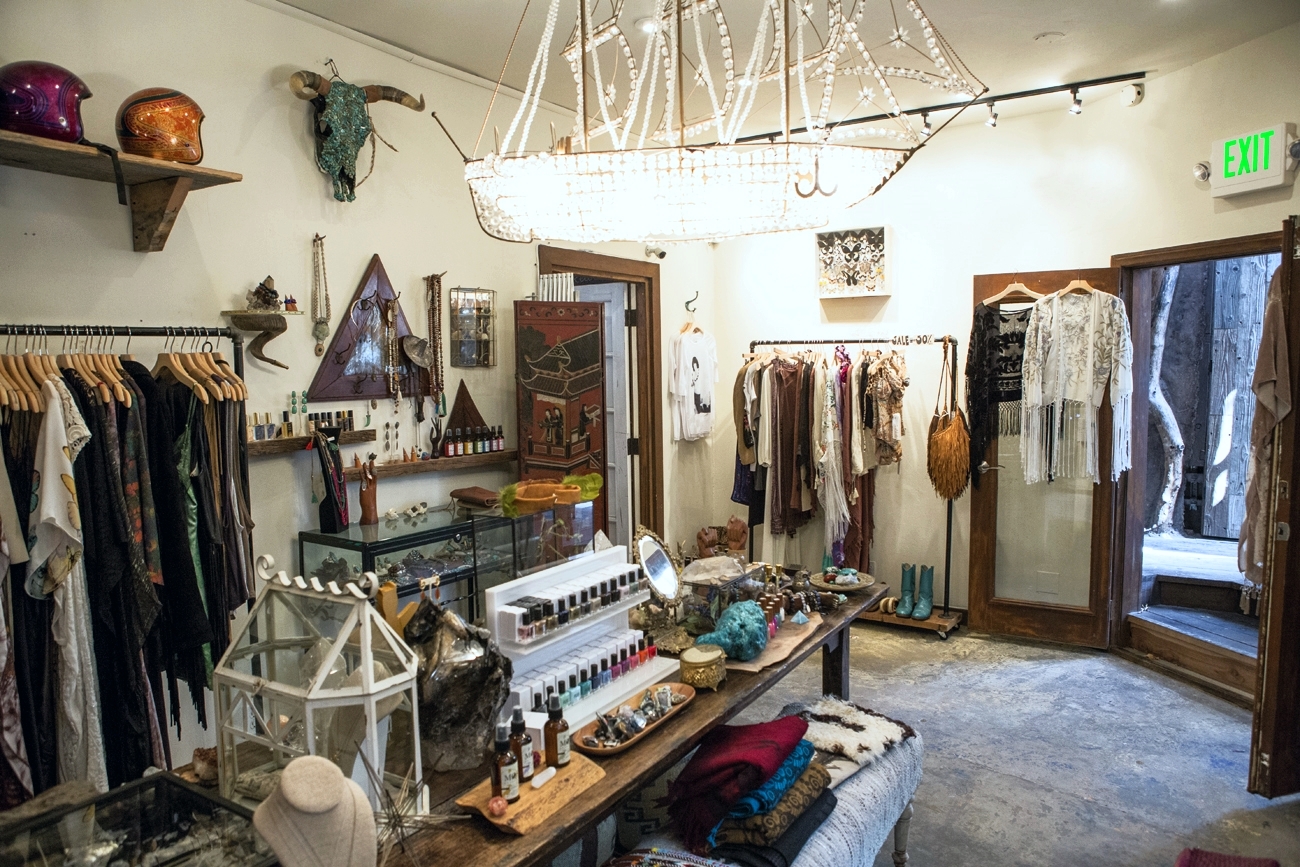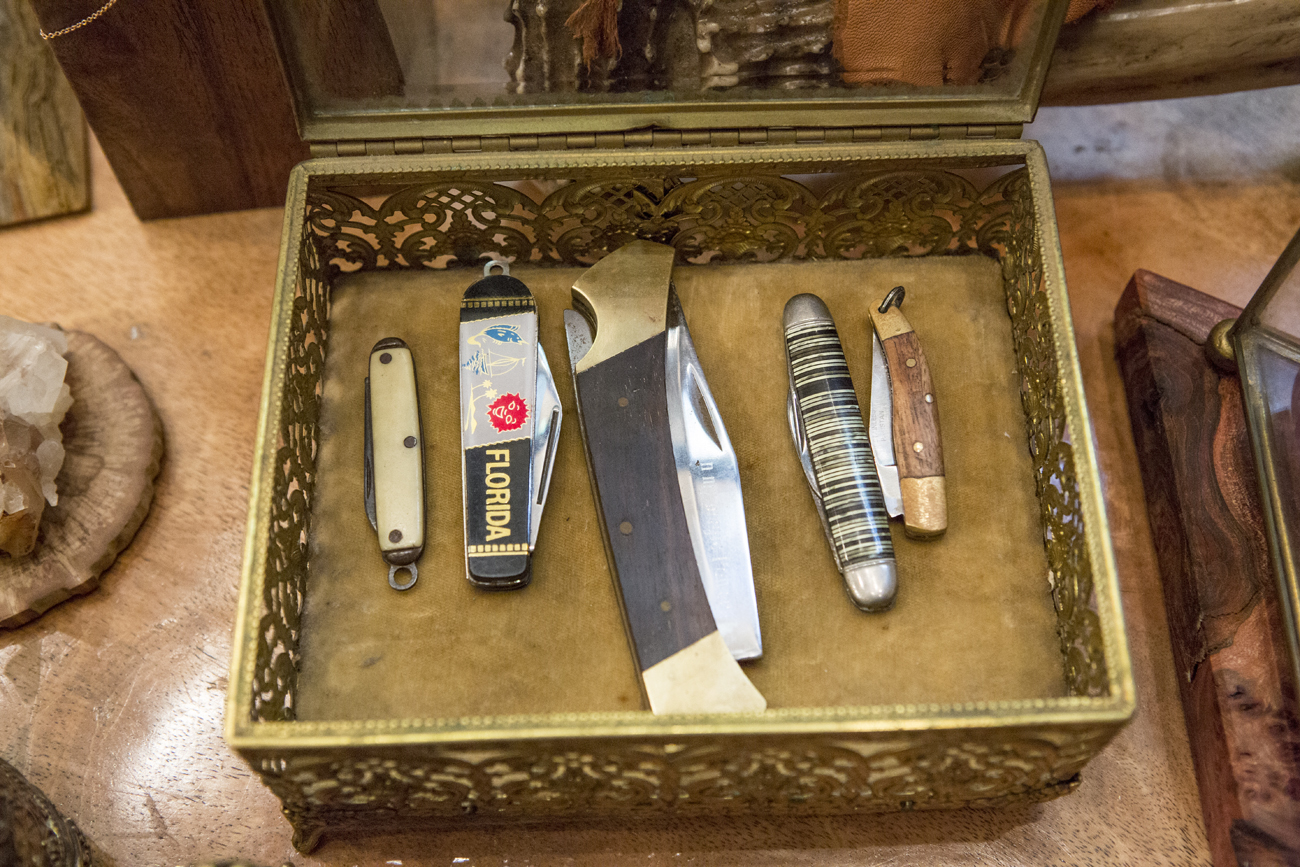 Pearl Drop [CLOSED]
The brain explosion of fashion designer and collector Jennifer Nicholson is an energy center, crystal store, consignment shop, and jewelry exchange. Pearl Drop, a Montana Ave. transplant, made its Venice debut last year on Lincoln Blvd in the former pot dispensary S.O.S., a few doors down from RAMA Yoga and Kippy's Ice Cream. At the time, Nicholson felt that Rose Ave. was already becoming saturated and sought the rogue, wild west vibe that "The Linc" had to offer. But in less than a year, she relocated to this new cavernous space on Abbot Kinney, making it even harder to find and more amazing to discover. Pearl Drop is the curated collection of Nicholson, who happens to be really good at collecting. (In her wardrobe alone, there are 500 pieces by Italian designer Emilio Pucci.) Here you'll find Venice eclecticism summed up in one bitty, well-edited boutique. With a turquoise-studded cow's skull overseeing the purchasing, the store boasts an array of goods that elevate your style and your inner spirit.
Self-help books stacked among imported organic essential oils heal ailments and raise vibrations. Colorful caftans mix in among leather leggings and crocheted frocks to outfit today's modern boheme. Local artists, sculptors and jewelry designers also sell their wares here, like snake shaped necklaces made of mixed metals and gemstones mined safely by a friend of Nicholson who gets them from a secret mine. For real. We couldn't even get a country or hint out of the tight-lipped staff. Among the crystals and sage, Nicholson also showcases rare treasures like antique pocket knives and beautiful butterfly terrariums – things you wouldn't necessarily need, but it is awesome to know that you probably wouldn't be able to find anything you're looking at anywhere else within hundreds of miles. Even the change is cool. We bought sage, and they gave us the change in the form of two-dollar bills.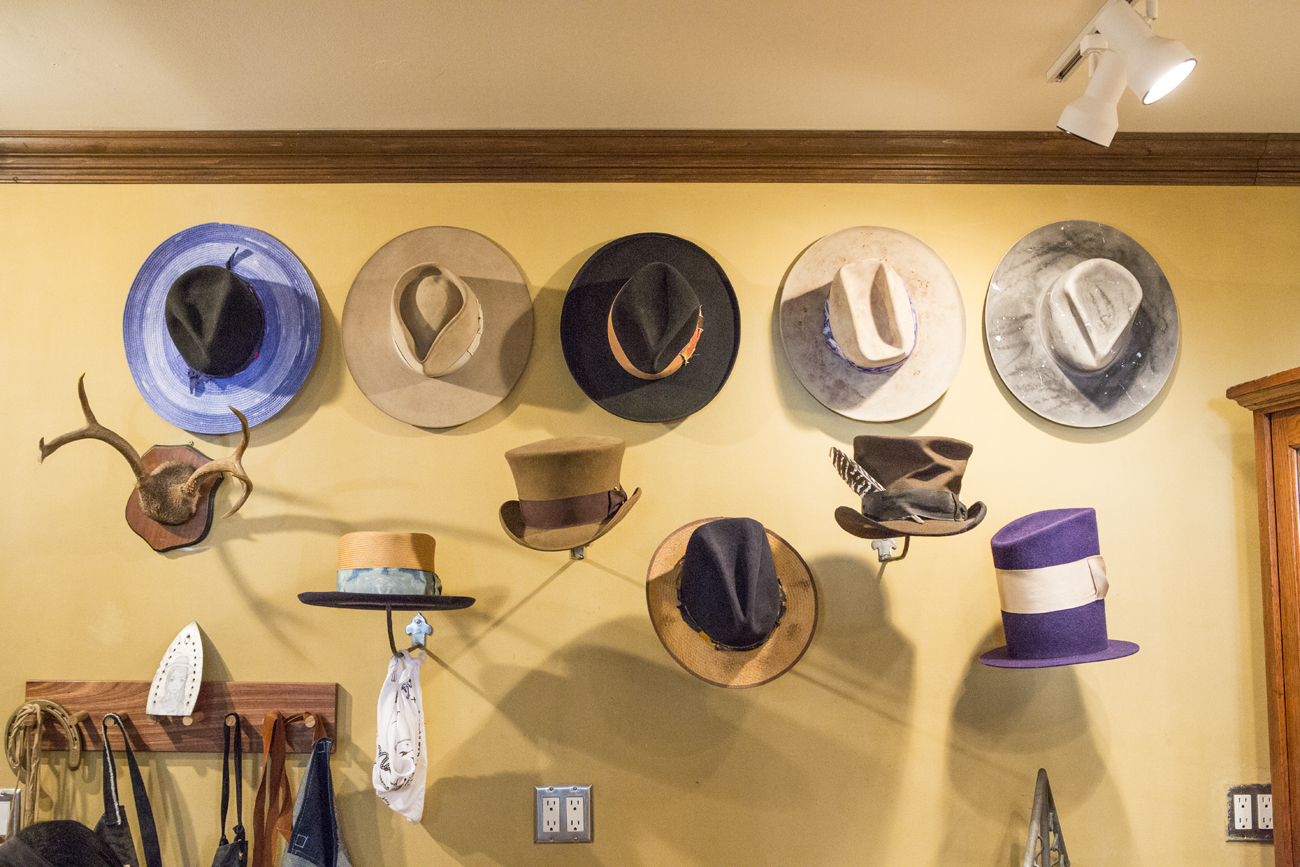 Nick Fouquet Hats
Inspired by both Tom Sawyer and Keith Richards, Nick Fouquet and his fellow hat makers run this not-so-secret studio deep within the rabbit hole. Despite its hidden location, people know about Fouquet – a lot of people. His dad, Bernard Fouquet, is well known in the fashion world as the longstanding patriarch in glossy Tommy Hilfiger ads. And while Nick followed in his footsteps with a successful career in fashion modeling, he achieved his own notoriety in the diminished art of hat making. As lid connoisseurs and celebrities alike line up for custom-made creations, there is already a waiting list eight weeks deep for a Nick Fouquet original.
Walking into the studio evokes a different time, a time when there were still cobblers, petticoats, and people who wore… hats. Good hats. Beaver fur felt hats. Fouquet has started a hat resurgence among both men and women by making hats the way they made them when a hat meant respect and status.
"I couldn't find this shop at first," said a New Yorker we met in the shop. "But I kept looking because my friends told me I had to come see Nick. This is my third time. Third hat."
He says this as he slides the Nick Fouquet signature matchstick behind the ribbon in his new beaver felt hat. If you too fancy yourself a hat enthusiast, you can get a specialized block cut for your head so you don't need measured every time. Fouquet is sort of a fitting specialist, measuring every little bump or scar you got in third grade so that your hat fits to perfection. Most Fouquet hats are fashioned from beaver pelts all the way from Winchester, Tennessee, the last remaining felt supplier in the country. Since trapping beavers has fallen from popularity, these hats are pretty unique… much like everything down the alley. This must be why Fouquet hats start at $625 and head up to $1095 ($1200-1500 for top hats).
It's not just men who line up to get their beaver on. Hats are just as popular for women these days too. One trending style is the telescope top. It sort of falls inward as if the top were going back down to create a concave space. We didn't look so great in telescope tops, but it's probably because we have yet to be fitted for our special hat mold.
ZenBunni Rabbit Hole / Pearl Drop / Nick Fouquet Hats / Another Kind Of Sunrise / The Piece Collective / H.O.W.L all located at 1629 Abbot Kinney Blvd. Venice CA 90291
Laurenne Sala, is a vegetarian who hates salads. She thinks parrots are just gay pigeons. See what else she writes at laurenne.com // Photos by Sam Diephuis